Landscaping Services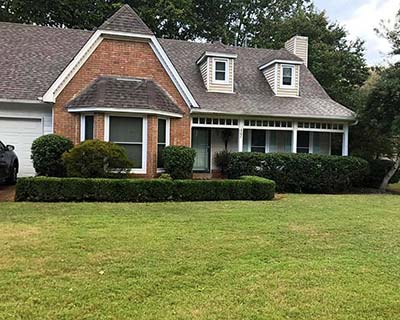 We at Lawn & Garden Landscaping are the landscaping company that offers the best services to clients throughout Collierville, TN. We cater to residential and commercial clients and handle landscaping projects of all scales and types, and we always focus on providing clients value for money.
We understand that clients do not want to approach multiple contractors for the various landscaping services that they need. They prefer to deal with a single contractor that would be able to offer comprehensive solutions within their budget. We understand this aspect very well, which is why we provide a wide range of landscaping solutions, such as:
Landscaping
Planning and installing a landscape involve a significant amount of skill, knowledge as well as experience. We are the expert landscapers that offer start to end landscape design and installation solutions. But that is not all. We also handle their related lawn maintenance and landscape maintenance services. It means that once you approach us, you can trust that we will handle every single aspect of the job to industry standards. We offer customized landscape designs and layouts and make sure that the installation is completed in line with your requirements and within your budget. You can always be sure to get value for money when you hire us. Read More About Landscaping >>
Lawn Maintenance
Lawns are an excellent value addition to your property. They enhance the appeal of the outdoor spaces and lend freshness and liveliness to the areas. However, caring for lawns can be quite tedious and time-consuming, which is why it is better to hire the services of expert lawn maintenance professionals like us. We provide customized lawn maintenance plans based on your specific requirements and make sure that your grass is mowed, fertilized, de-weeded regularly. We are also carryout pre-emergent and post-emergent weed control and pest control applications as required, so your lawns stay looking great and healthy. Read More About Lawn Maintenance >>
Grass Planting
If you have lawns on your property and find that they have developed bare or brown patches, you might want to consider getting grass planting done. In addition to lawn upgrades, we also handle grass planting for new landscapes. When we manage this job, you can rest assured that only the best quality materials would be used in the project. We source the grass seeds from the best nurseries and prep the topsoil well so that your grass begins to grow quickly, and you get lush and green turf areas within the shortest possible time. Sometimes, our grass planting services could be part of a larger landscape installation project as well. Read More About Grass Planting >>
Flowerbed Planting
If you like the idea of having flowers growing in various areas of your landscape, you should hire us for flowerbed planting. These solutions are specifically designed to create flower beds on your property that would add a pop of color to the outdoor areas of your home or commercial establishment. When we handle flower bed planting, we focus on your preferences in terms of the types of flowers that you want. Once you have determined which blooms you prefer, we will demarcate the spaces for the flower beds before carrying out the planting. The topsoil composition and drainage will be checked before installing the flowering plants. Read More About Flowerbed Planting >>
Mulching
When it comes to landscape areas, various aspects need to be considered. Maintaining these spaces involves ensuring that the soil is well protected and that the plantings get the right kind of nutrition and water that they need. One of the best ways to ensure this happens is to get various areas of your landscape mulched. Organic mulches help to retain moisture in the soil and protect it from temperature changes. It also means that your plants, grass, etc. get the nutrition and that they need to stay healthy. There are different types of mulches, and we can provide information about these so you can determine which one works best for you. Read More About Mulching >>
Pruning
While it is always great to have dense shrubs and plants on your property, that is not always good for the health of the plantings. So that your shrubs and bushes grow well right around the year, it is necessary to get them pruned and trimmed at regular intervals. Most of our clients opt for our landscape maintenance solutions, which also include bush and hedge pruning. When we are pruning the plantings, we inspect them for infestations and fungal attacks. Those branches will be trimmed, so the plants remain healthy and do not impact any adjacent greenery in the landscaping. We will create a pruning and trimming plan depending on the types of shrubs and bushes you have on your property. Read More About Pruning >>
Tree Services
If you have trees in your landscape, they lend shade and improve the overall quality of air in your immediate surroundings. However, these features also need regular care, and this is where our tree services come into the picture. We provide comprehensive tree solutions that include everything from tree trimming and pruning, tree removal as well as stump grinding and more. We can create tree maintenance plans that help to ensure your trees are always in good condition. During the tree maintenance visits, our technicians will check the trees for signs of infestations and other problems. Timely intervention and the right treatments help to ensure that your trees stay healthy and thrive through the seasons. Read More About Tree Services >>
Aerating
The topsoil on your property has a significant role to play in the health of the lawns, flowers, shrubs as well as trees, etc. However, over time the soil does tend to get compacted, which impacts its ability to hold water and provide enough nourishment and air to the roots of grass and shrubs. One of the best ways to overcome this issue is to get the soil aerated at regular intervals. We recommend core aeration at least two times a year, as this helps to open the soil and the roots to breathe. We use the latest equipment and soil aeration techniques in our work so that the grass and plantings on your property stay healthy. Read More About Aerating >>
French Drains
Drains are one of the most important aspects of any landscape, big or small. Many different types of drainage systems could be used in the outdoor areas of a property, but French drains are widely used on commercial and residential properties. We can design and install French drains for your landscape or yard. Our team of experts works with you and will survey the available space. They will check which types of plantings you have before designing French drains for your property. In some cases, these drains are a part of a more extensive drainage network, which could include channel drains, dry beds, and more to manage water run-off efficiently. Read More About French Drains >>
Leaf Removal
It is always pleasant and refreshing to have different types of trees and plantings on your property. However, the downside is that at certain times of the year, trees shed a lot of leaves. While they are a pretty sight and lend a pop of color to the landscape, you cannot allow them to lie there for an exceptionally long time. Before long, the leaves can start to rot and decompose, affecting the health of the plantings and the quality of the soil. We offer high-grade leaf removal solutions as part of our landscape maintenance plans. You also have the option to hire us for one-off leaf removal for your commercial or residential property. Read More About Leaf Removal >>
Pressure Washing
The hardscaping in the outdoor areas of your commercial or residential property lends support to various features and creates a well-balanced look in these areas. However, pavers, natural stone features, brick, as well as retaining walls tend to become dirty over time. Pollution and the weather take their toll on these features while at others it could be regular wear and tear that cause them to look dull and dated. One of the best ways to maintain the appearance and condition of these masonry or hardscaping features is to get regular pressure washing done. Read More About Pressure Washing >>
Gutter Cleaning
The gutters on your property can become clogged with leaves, twigs, debris, or even birds' nests, etc. This kind of clogging will only result in water overflowing from them. Its why you must get regular gutter cleaning done. While some property owners do handle this job themselves, it is never safe to do so. We offer high quality, customized gutter cleaning solutions for residential and commercial properties. We use the latest tools and technology in our work and complete the job safely so that your landscape gutters are entirely free of all kinds of debris, leaves, twigs, and the stormwater or rainwater can flow freely. Read More About Gutter Cleaning >>
Stoneworks
Just as you get various softscaping features installed on your property, the best way to create balance in the outdoor areas is to get masonry features installed. We provide high-quality stonework design and installation services to our clients. Natural stones such as slate, bluestone, flagstone, sandstone as well as travertine, and granite are some of the widely used materials in stonework. Whether you want steps, a stone patio, walkway, driveway, or even a deck or fireplace installed, we can handle the stonework installations for you. Our stonemasons are skilled and experienced and install superior stonework on your property. Read More About Stoneworks >>
Wood Fencing
When you move into a new property, one of the first things that you would like to do is to secure its boundaries. While there are many different types of fencing materials available today, wood fencing continues to be a popular choice. There are some distinct reasons for this. Wood is attractive, durable as well as easy to maintain and can last for many years. We offer top-notch wood fencing solutions and can install slatted wood fences, privacy fences, and other types of fences using combination materials. In addition to the fencing, we can also design and install the gates that you need for this feature. Read More About Wood Fencing >>
If you are looking for custom landscaping services, we at Lawn & Garden Landscaping are the company to call. Every solution that we craft is planned with your specific needs and budget in view. Our experts always aim to please our clients with outstanding customer service. For any more information about our services and landscape design cost, feel free to call us at 901-651-1945 or contact us through this Online Form.
We Provide Services to the Following Cities, Towns and Surrounding Regions of TN: